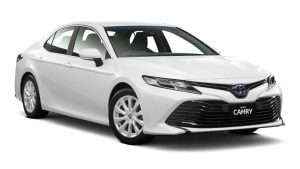 Toyota Camry Hybrid Rental at Burswood Car Rentals
Welcome to Burswood Car Rentals, where we offer a wide selection of reliable and stylish rental cars to suit your needs. If you're in the market for a fuel-efficient and environmentally-friendly sedan, the Toyota Camry Hybrid is an excellent choice.
The Toyota Camry Hybrid is a mid-size sedan that combines a gas engine with an electric motor, providing impressive fuel efficiency and reduced emissions. Its smooth and quiet ride makes it a pleasure to drive, and its spacious interior offers comfortable seating for up to five passengers. You and your passengers will have plenty of legroom and headroom, even on long trips.
In terms of modern amenities, the Toyota Camry Hybrid doesn't disappoint. Many models feature a touchscreen display and Bluetooth connectivity, allowing you to stay connected and entertained on the road. You can stream music, make hands-free phone calls, and access maps and other useful information with ease. The Toyota Camry Hybrid also offers a rearview camera, making it easier to back up and park in tight spaces. And when it comes to safety, the Toyota Camry Hybrid has you covered with features like airbags, stability control, and traction control.
So why wait? Rent a Toyota Camry Hybrid from Burswood Car Rentals today and enjoy a smooth and fuel-efficient ride on your next trip to Burswood. We offer competitive pricing and flexible rental terms to fit your needs. Contact us today to learn more and reserve your Toyota Camry Hybrid rental!