Trailer Rentals Perth
Quality WA Built, 8×5 Tandem Trailer Hire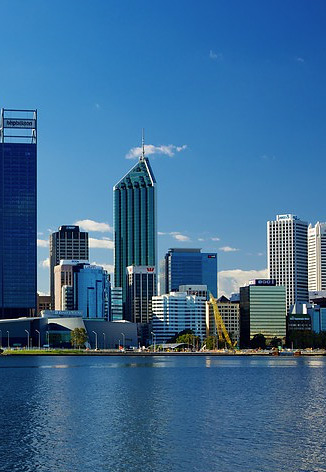 At Burswood Car Rentals we are offering cheap trailer hire in Perth. We provide only quality WA built trailers. Most importantly all our trailers have brakes, most trailer hire companies don't.
8×5 Tandem trailer size with a cage to fit more in
Hire a ute and a trailer together and receive the trailer discounted by 10%
Perfect size to towing ratio making it easier to fit in tight spaces
Our trailers have brakes, which means they're safer and can carry more load
You must be very careful if hiring from others, especially service stations as their trailers often don't come with brakes. This means you can't tow as much!
A typical car can tow ~750 kgs (trailer and contents) without brakes. The trailers themselves weigh 450 kgs, which means you can only carry 300 kgs in the back.
All our trailers come with brakes which increases your weight load to 1.5 tonnes in total, or 1050 kgs in the trailer.
Super Easy Pick-Up and Drop-Off
As the leading provider of car hire in Perth, we're located just a stone's throw from the glitz and glamour of the Crown Hotel, Perth.
The convenience of being located right on the perimeter of Perth's Central Business District allows us to offer free car hire pick up and car rental delivery to all hotels in the city.
We're right in-line with the route from the Domestic and International Airports, so you can even choose to pick the vehicle up from the airport terminal you fly into.
Why are we the best trailer rental in Perth?
If you are moving house one of our quality trailers would be ideal to load all your furniture in to. The trailer size of 8×5 gives you the right size to towing ratio making it easier to fit in tight spaces. All our Perth Trailer hire trailers fit straight on to our utes to give you double the carrying capacity.
We also guarantee every one of our trailers are mechanically reliable and maintained and presented to the highest standards.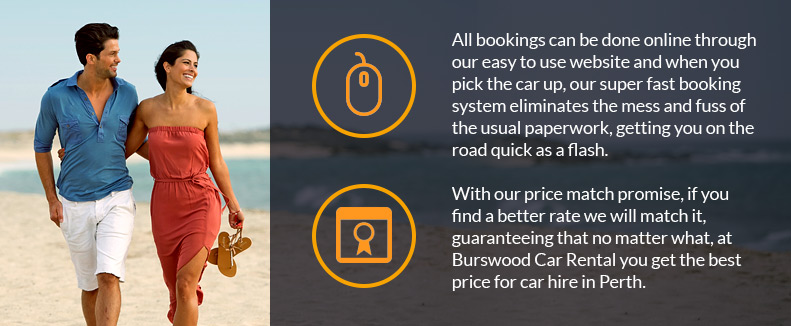 The Burswood Difference
Trailer hire should be straightforward, but many other rental agencies make things difficult with hidden fees, haphazard service and tricks like giving you a different car to the one you've chosen and booked.
Burswood Car Rentals has been in business for nearly 30 years and in that time we've built a reputation for providing hassle free service that delivers top quality vehicles for affordable prices – we do what we say we will.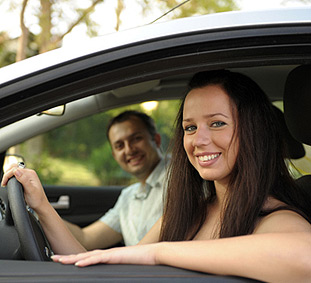 When you book your trailer in Perth with us, there are no hidden fees or damage excesses – our daily rates offer great value for money with nothing extra to pay. 
And once you drive away, Burswood Car Rentals offers Roadside Assistance should you need it. It's all part of our dedication to providing the best service in Australia.
Burswood Car Rentals Makes it Easy
At Burswood Car Rentals we take pride in offering the most affordable deals for car hire in Perth to all our national and international visitors.
Whether you need a minivan to move the kids and relatives around in, a sleek sedan for a cruise along the coast or a trailer and ute to do some hard work, Burswood Car Rentals is easy to find, easy to book and easy on the wallet.
Our customers return to our city and to us time and again, and we've gathered some great testimonials, like this one from Rosslyn Smithe: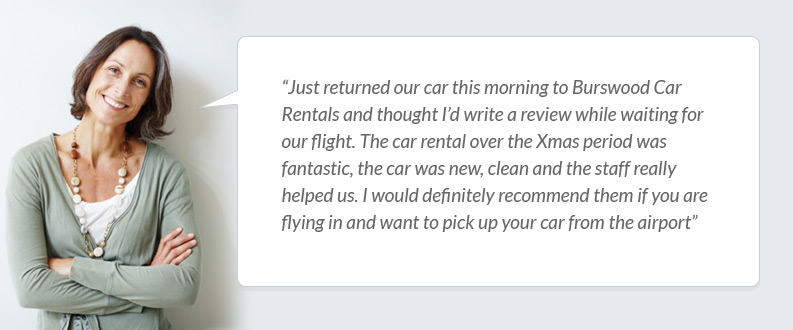 Whether it's for personal or corporate use, booking a car with Burswood Car Rentals is easy. Our website's booking portal lets you select the dates you need the vehicle for and set the location you wish to pick it up – from our depot at Burswood to any of the airport terminals. The next step is to choose the model of car you want. We have everything from 4 door Hyundai i20s and Elantras to Toyota dual cab utes, minivans and scooters.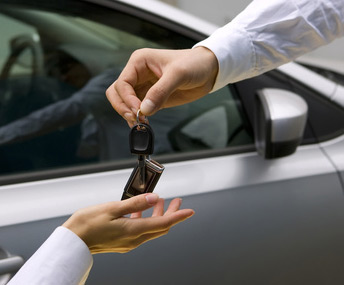 Just select the one you want, and we can either send you a quote or lock your choice in. You just fill out all of your details on the online form and pay online – no mess, no fuss. Just pick up the car and drive away!
Your car will be perfectly cleaned, have fuel in the tank and perform as it should – our fleet is maintained to the highest mechanical standards and will give you a reliable ride.
Simple & Reliable Service
At Burswood Car Rentals, we think car and trailer hire in Perth should be easy. We provide a simple, reliable service that's perfectly fitted to the needs of people visiting our great city.
We have a wide range of top quality cars at affordable prices, and will match the prices of our competitors if you find a better deal. Our customers can pick the car they want and nominate where they want to pick it up from – be it any of Perth's airport terminals or our depot conveniently located in Burswood. We can even deliver the vehicle free of charge to any hotel within the Perth city area.
There are no hidden fees or tricks – just friendly service that seeks to put you on the road as quickly and easily as possible. Our super fast online booking system is simple to use and eliminates the hassle of lots of paperwork.
So whether you're coming to Perth for a holiday, a quick visit or a work trip, Burswood Car Rentals is the best choice for high quality vehicles at affordable prices, all backed by superb customer service that's focussed on making your driving experience – and your trip to our city – as enjoyable as possible.