Scooter Hire in Perth
Super Fun and Convenient Scooter Rentals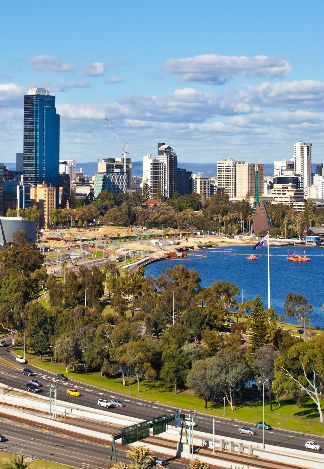 SORRY WE ARE NO LONGER HIRING SCOOTERS (still doing cars though)
We are spoilt for good weather in Perth. The sun shines nearly year round, making it the perfect city to get outdoors. With the city and sea being so close together, why not explore it by scooter? Not only are scooters easy to drive, they can be parked nearly anywhere and will take you much closer to the action than any car might!
The wind in your hair and freedom at your fingertips, a scooter gives you all the freedom of a car at a fraction of the price – ideal if there's only one or two of you looking to get out and about!
We offer scooter rentals every day of the week to help you get up close to the action!
Conveniently Pick-Up & Drop-Off Your Scooter
As the leading provider of scooter hire in Perth, you'll find us just beyond the city limits, ready to be your starting point to a great adventure.
The convenience of being located right on the perimeter of the CBD, as well as near reliable public transport, means that you can pop in whenever it suits you – just collect the keys and go!
We're located a few blocks from Victoria Park station, so that regardless of whether you own a car or not, reaching us is easy.
Why are we the best scooter rental in Perth?
Burswood Car Rental's mission is to get you zooming around on a quality scooter quickly and easily, with great value for money and friendly service locked in with every transaction. We even offer no damage excesses so that you can safely explore even the narrowest laneways.
At Burswood Car Rental, we love the "Honda Today" scooter. They offer quiet operation and are very reliable. This 4 stroke, 50cc scooter offers superb everyday convenience and comes fully equipped. With a name inspired by the familiar expression, "Let's go somewhere today", the Today 50 was designed with the goal of providing a scooter that is fun, convenient, and economical to as many people as possible.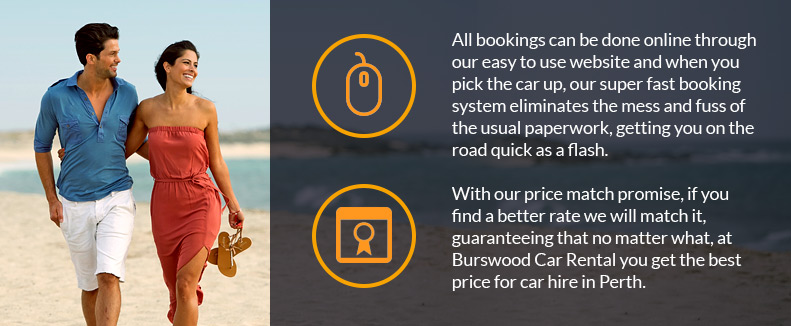 The Burswood Difference
Scooter hire should be straightforward, but many other rental agencies make things difficult with hidden fees, haphazard service and tricks like giving you a different scooter to the one you've chosen and booked.
Burswood Car Rentals has been in business for nearly 30 years and in that time we've built a reputation for providing hassle free service that delivers top quality vehicles for affordable prices – we do what we say we will.
At Burswood, the scooter you book is the scooter you drive. Our big fleet and tight management allows us to offer a wide range of scooters and supply them to the exact demands of our customers.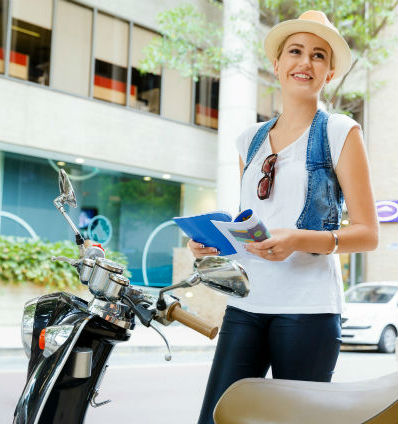 When you book your scooter hire in Perth with us, there are no hidden fees or damage excesses – our daily rates offer great value for money with nothing extra to pay. You even get 200 free kilometres per day, and if you find a cheaper price for the same vehicle with the same travel dates on any other website we will match it.
And once you drive away, Burswood Car Rentals offers Roadside Assistance should you need it. It's all part of our dedication to providing the best service in Australia.
Burswood Car Rentals Makes it Easy
At Burswood Car Rentals we take pride in offering the most affordable deals for scooter hire in Perth, regardless of whether you call our fair city home or are just here to enjoy the weather.
If you're looking for a scooter that will go the distance and won't burn out half way to the beach, Burswood Car Rentals is easy to find, easy to book and easy on the wallet.
Our customers return to us and to us time and again for reliable scooter rentals, and we've gathered some great testimonials, like this one from Rosslyn Smithe: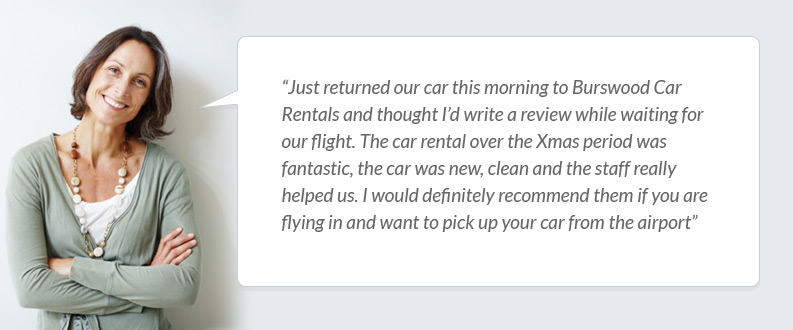 No matter what your plans are, booking a scooter with Burswood Car Rentals is easy. Our website's booking portal lets you select the dates you need the scooter for and set the time you wish to pick up your super swifty scooter.
Just select the high quality, user-friendly scooter that you want to explore Perth on, and we can either send you a quote or lock your choice in. Just fill out your details on the online form and pay online – no mess, no fuss. Pick up the scooter and drive away!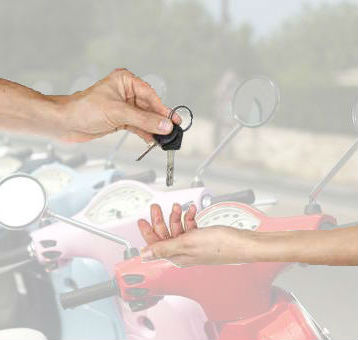 Just fill out your details on the online form and pay online – no mess, no fuss. Pick up the scooter and drive away!
Your scooter will be cleaned, have fuel in the tank and perform as it should – our fleet is maintained to the highest mechanical standards and will give you a reliable ride.
Simple & Reliable Service
At Burswood Car Rentals, we think scooter hire in Perth should be easy. We provide a simple, reliable service that's perfectly fitted to the short term DIY needs of our customers.
We have a wide range of top quality scooters at affordable prices, and will match the prices of our competitors if you find a better deal. Pick up the scooter you want from where you want – be it any of Perth's airport terminals or our depot conveniently located in Burswood.
There are no hidden fees or tricks – just friendly service that seeks to put you on the road as quickly and easily as possible. Our super fast online booking system is simple to use and eliminates the hassle of lots of paperwork.
So if you're looking for a scooter that will spark your day with a new perspective, Burswood Car Rentals is the best choice for high quality vehicles at affordable prices, all backed by superb customer service that's focussed on ensuring your trip is as bright and sunny as our weather.