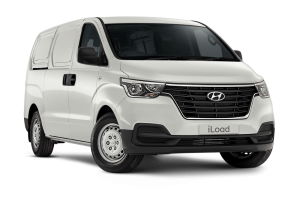 Hyundai iLoad Rental at Burswood Car Rentals
Welcome to Burswood Car Rentals, where we offer a wide selection of reliable and stylish rental cars to suit your needs. If you're in the market for a versatile and spacious van, the Hyundai iLoad is an excellent choice.
The Hyundai iLoad is a mid-size van that offers a spacious and comfortable interior, as well as impressive fuel efficiency. Its compact size makes it easy to maneuver in busy traffic or crowded parking lots, and it's a breeze to park in tight spaces. And with impressive gas mileage ratings, you can save money on fuel while you're on the go.
Despite its compact size, the Hyundai iLoad offers a spacious interior with comfortable seating for up to seven passengers. You and your passengers will have plenty of legroom and headroom, even on long trips. The seats are supportive and comfortable, and the cabin is well-insulated, so you can enjoy a peaceful and comfortable ride. The Hyundai iLoad also offers a convenient storage area in the back, perfect for hauling tools and equipment.
In terms of modern amenities, the Hyundai iLoad doesn't disappoint. Many models feature a touchscreen display and Bluetooth connectivity, allowing you to stay connected and entertained on the road. You can stream music, make hands-free phone calls, and access maps and other useful information with ease. The Hyundai iLoad also offers a rearview camera, making it easier to back up and park in tight spaces. And when it comes to safety, the Hyundai iLoad has you covered with features like airbags, stability control, and traction control.
So why wait? Rent