Vehicles Available for Hire
Burswood Car Rentals Perth has been operating for over 35 years (Wow 35 years!). Located just a stone's throw from the Crown Resort Casino, our fleet of rental cars features the very latest models ranging from economy size right through to full-size cars and minivans. Browse through our fleet below, and use our online booking form to start your booking. None of our cars have rental stickers on them, rental stickers definitely attract thieves, no stickers less risk.
HYUNDAI ACCENT 5 DOOR MANUAL HATCH
Take comfort in the knowledge that your safety is always our top priority. The Hyundai Accent, which is synonymous with confidence and fun – boasts a 5 Star ANCAP Rating, for your total peace of mind.

HYUNDAI ACCENT4 DOOR AUTO SEDAN
Cruise around town in a zippy Hyundai Accent sedan. The Hyundai Accent is one of the best in its class of economy cars, so you'll be driving around knowing your riding in one of the best economy sized vehicles available.

HOLDEN ASTRA LS+ NEW AUTO QUALITY 4 DR AUTO SEDAN HAS MANY FEATURES
After driving the Holden Astra 4 door auto, a lot of our customers say "I love the roomy interior for such a sleek car." This superb sedan boasts a sophisticated interior that is designed to make your drive as uncomplicated as possible. The technology in this car makes it one of the safest cars on the road. An absolute pleasure to drive, we already have customers asking where they can buy one. You will not be disappointed.

TOYOTA TARAGO 8 SEATER PEOPLE MOVER
The comfy Toyota Tarago has all the space, versatility and accessibility you'd expect in a People Mover. Designed, tested, and manufactured to meet Toyota's stringent Global Outstanding Assessment (GOA) safety program

HOLDEN EQUINOX SUV 5 DOOR AUTO
The exterior of the Holden Equinox creates a powerful and lasting impression, but its the spacious interior that truly wows. Enjoy generous cabin space matched with an exceptional ride combine to make this awesome SUV.

TOYOTA HILUX 1T UTE AUTO & MANUAL AVAILABLE
The gutsy one tonne Hilux makes moving a breeze. Conveniently pack everything into the amply sized cab and away you go! The fantastic Toyota suspension system gives you a surprisingly smooth ride.

AUDI A3 LUXURY
Drive the beautiful sporty Audi A3, this is pure luxury.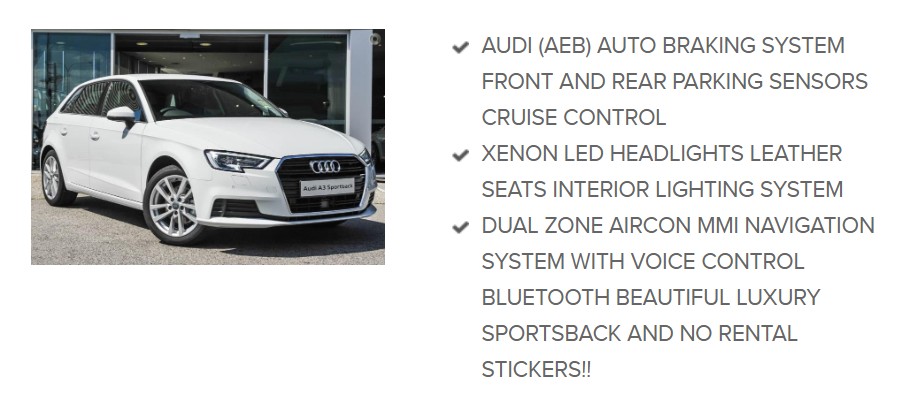 AUDI A4 LUXURY
Drive the beautiful sporty Audi A3, this is pure luxury.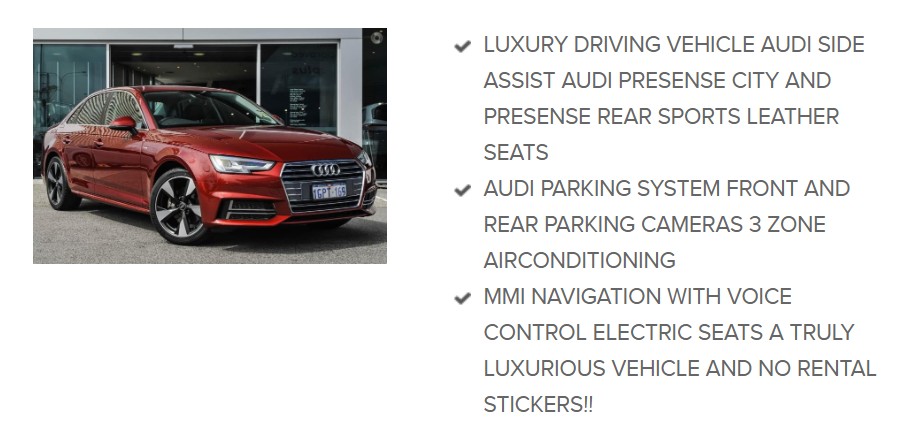 AUDI Q2 LUXURY
Drive the beautiful sporty Audi Q2 SUV, this is pure luxury.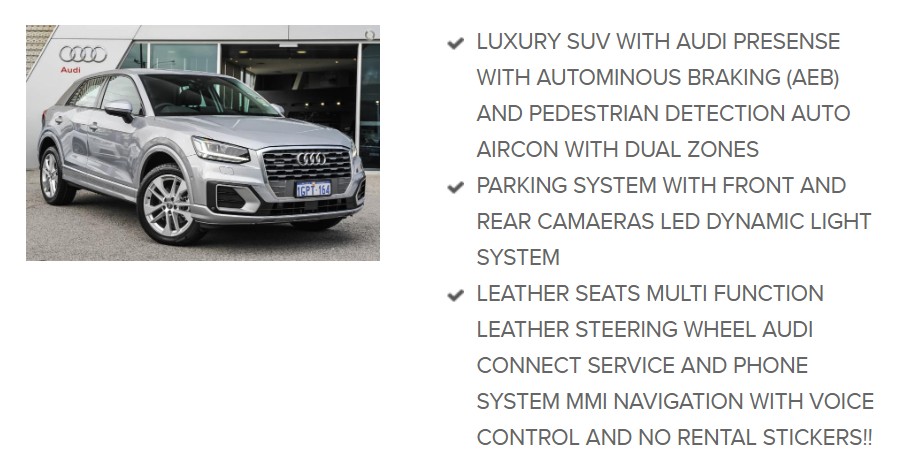 AUDI Q5 LUXURY SUV
The King of the fleet drive the beautiful sporty Audi Q5 SUV, this is pure luxury. Lot's of space, lot's of luxury and stacks of power.