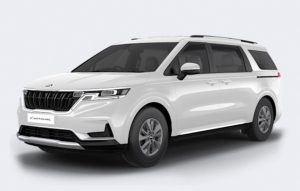 8 Seater Car Rental – Kia Carnival
At Burswood Car Rentals, we're proud to offer the Kia Carnival as one of our top rental vehicles. This spacious and comfortable minivan is perfect for road trips and family vacations, with seating for up to eight passengers and a flexible and configurable seating system.
In terms of performance, the Kia Carnival is known for its smooth and comfortable ride, as well as its robust and reliable engine. It has a durable and efficient transmission, as well as a stable and confident handling, which makes it a pleasure to drive on long trips. It also has good fuel economy, so you can save money on gas and spend more time exploring your destination.
At Burswood Car Rentals, we take your safety seriously. That's why we've equipped the Kia Carnival with a range of advanced safety features, including stability control, traction control, multiple airbags, automatic emergency braking, and a blind spot monitoring system. These technologies work together to help you avoid accidents and protect you from harm.
In terms of tech features, the Kia Carnival has everything you need to stay connected and entertained on the go. It comes with a touchscreen infotainment system with Apple CarPlay and Android Auto, which allows you to access your favorite apps and media on the road. It also has a premium sound system and a wireless charging pad, which make it easy to keep your devices powered up. And with an adaptive cruise control system, you can relax and enjoy the ride while the car maintains a safe following distance from the vehicle in front of you.
So why wait? Rent a Kia Carnival from Burswood Car Rentals today and start planning your next adventure! Whether you're going on a road trip with your family, or taking a group of friends on a weekend getaway, the Kia Carnival has everything you need to make your journey enjoyable and stress-free.