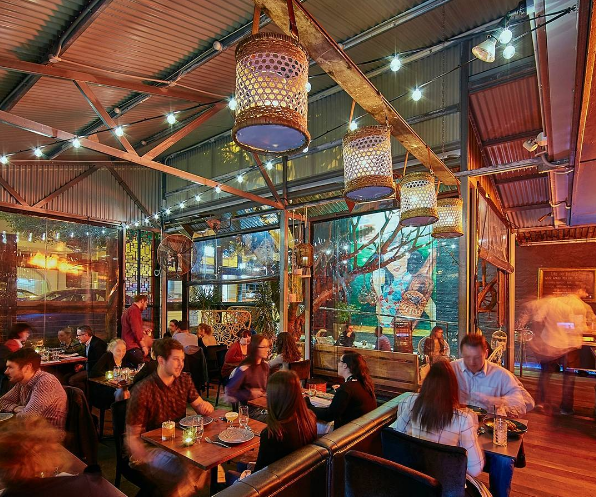 Leederville is always one step ahead of the game when it comes to cool, innovative food in Perth and Kitsch Bar Asia is no exception.
Location & Atmosphere
Situated a little further out from the main dining strip next door to the iconic Re Store, a vintage Chinese beer ad greets you as you enter the rustic dining room.
Woven lanterns create an atmosphere that caters equally to large groups as it does couples seeking an intimate night out.
It's easy to forget that you're right on Oxford Street.
The "Hawker Market" style experience.
OMG THE EXPERIENCE
On the night we dined, the restaurant was roaring with life (we highly recommend booking in advance) but you'd never know it as the waiters bantered with guests between running plates from the bustling open kitchen.
The rotating menu is designed for sharing and offers a range of hot, sweet, crispy, salty and sour street foods from across Asia – it almost feels like you're at a hawker market.
Roti bread arrives shortly before our mains, in preparation for the sauce they'd mop up. Buttery and flaky, we wish we'd ordered a double serve.

The lamb massaman was a highlight. Traditionally cooked with beef, the tender lamb shoulder brought a richer but welcome addition to the dish. It was served with a sweet cucumber lychee combination that was welcome relief from the spice.

The BBQ Szechuan chicken was not what we were expecting – not that we were complaining. Drenched in a bright red sauce, the charcoaled chicken was tender with crisp edges and even spicier than the lamb. Needless to say, extra cocktails were ordered to cool the flames on our tongues.

Speaking of cocktails, the mixologist behind this list clearly favours fusion flavours, making it the perfect accompaniment to the chef's fusion food menu, which makes it impossible to resist. There are no bad choices, but it's definitely difficult to make one!

The tart Red Rickshaw (pictured below) comes adorned with a rainbow sourstrap that'll take you right back to the primary school tuckshop while the classic gin and tonic gets a makeover with bubble tea and tapioca pearls. Feeling gutsy? The Bloody Lucy promises a real kick in the teeth with the addition of kimchi paste to an otherwise classic Bloody Mary.

If you're looking for a meal that's a little bit spicy and a lot gutsy, Kitsch is the place to be. We all left beyond satiated and while we had no room left for dessert, it's definitely something we're heading back to try at a later date…